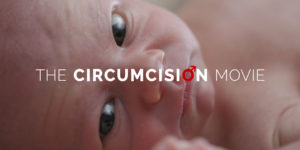 Four years in the making, we are THRILLED to announce the world premiere of The Circumcision Movie here in the Twin Cities (Minnesota), where all the creators live.
The documentary explores infant male circumcision from many angles: culture, religion, history, sexuality, and medical recommendations. We are two midwives who help educate families about issues of pregnancy and early infancy, and in our daily work we recognized a need for a thoughtful, guided discussion on circumcision.
The Circumcision Movie is that discussion. Parents tell their own stories, clinicians give medical context, men and women share personal feelings, and academics add a philosophical framework. We believe in evidence based medicine, and researched the topic for over a year before beginning to construct the movie. We worked hard to listen to parents: what their questions were, what factors were guiding their decision, and what kinds of information would help them make a choice. We very intentionally included a multi-disciplinary and multi-cultural array of interviews, always through the lens of respecting the honesty and vulnerability of those speaking.
GET YOUR TICKETS HERE!
https://thecircumcisionmoviepremiere.eventbrite.com